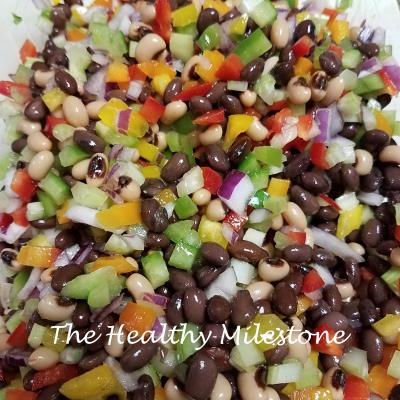 Cheap, Colorful and Cheerful Calico Bean Salad – THM E
Calico Bean Salad is a great salad because it's cheap, colorful, cheerful and very versatile. It makes a great side for grilled chicken or fish. Calico Bean Salad also makes a great dish to take to a picnic or family gathering.
This post may contain affiliate links to Amazon or other programs. I do earn a small commission from the sales made through these links; however your price never changes.
Great Serving Ideas for Calico Bean Salad
Use Calico Bean Salad as a topper for a mixed greens salad. It's all dressed so no need for an extra dressing. We love it on a leafy, mixed greens salad with sliced grilled chicken or white albacore tuna.
It also make a great salsa for dipping baked pita chips or Baked Tostitos for lively and colorful snack. Pair with some lean sliced deli turkey. When I was doing craft shows I would pack this salad to share with my crafting friends and they absolutely loved it!
Don't be afraid to change it up! My friend Shelly loves this salad. She prefers it to be more savory than sweet. Her great additions are chick peas, chopped radishes along with raw broccoli and cauliflower florets.
Ingredients and Tools for Calico Bean Salad
Here are a few accessories and ingredients used in Calico Bean Salad.
Calico Bean Salad
Author: Carey
Nutrition Information
Serving size: ¾ cup
Calories: 123
Fat: 3g
Carbohydrates: 18g
Sodium: 347mg
Fiber: 6g
Protein: 6g
Cholesterol: 0mg
Recipe type: Salad
Cuisine: American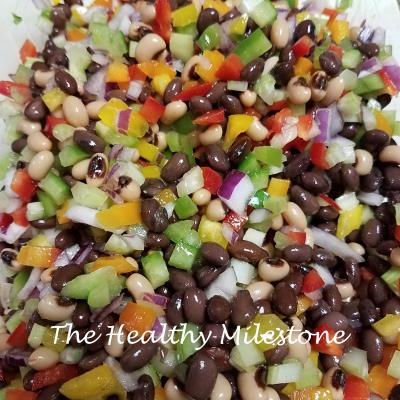 Cheap, colorful and cheerful bean dish that can be used as a side salad, a topper for a leafy green salad or as a snack with baked Tostitos.
Ingredients
Salad Ingredients
31 ounces black beans, canned (drained and rinsed (2 - 15.5 ounce cans))
15½ ounces black-eyed peas, canned (drained and rinsed(1 - 15.5 ounce can))
1 cup celery (finely diced)
1 cup red onion (finely diced)
½ cup red bell pepper (finely diced)
1 cup yellow bell pepper (finely diced)
½ cup green bell pepper (finely diced)
Dressing
Instructions
Prep:
Wash and dry peppers and celery ribs.
Open cans of beans and black-eyed peas; pour into a colander, rinse with cold water and drain completely.
Salad:
Finely dice red onion, peppers and celery. Add to a large mixing bowl
Add rinsed and drained beans and peas to the mixing bowl; toss to combine.
Dressing:
Place your dressing ingredients in an 8 ounce shaker jar. Shake vigorously to blend. Pour over the salad and toss to coat.
Notes:
For No Special Ingredients substitute MCT Oil for either avocado or olive oil.
If you would like to add some heat to this salad add one or 2 small jalapeno peppers diced very fine.