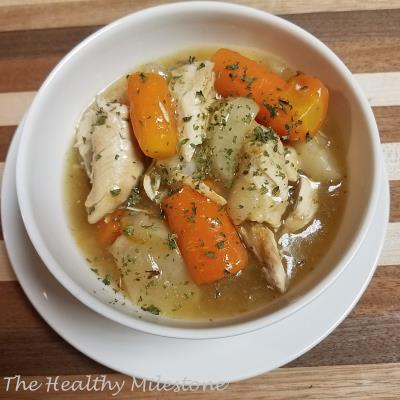 Instant Pot Chicken Tender Stew is Quick and Easy
Instant Pot Chicken Tender Stew is a favorite at our house. It's so quick and easy to prepare. Actually it takes longer to prep the veggies then it does to cook! It's a warm and comforting Trim Healthy Mama E meal too!
This post may contain affiliate links to Amazon or other programs. I do earn a small commission from the sales made through these links; however your price never changes.
This recipe was created in the Instant Pot DUO Plus, a 6 quart pot. If you have a larger family and feel the need to double the recipe I highly recommend that you use a Duo Plus 8 quart Instant Pot. Our family loves this meal with a nice leafy green side salad and Sour Cream Cornbread by Briana Thomas.
Let's Talk About Turnips!
Another great alternative to white potatoes for you stews and pot roasts are turnips!  Hakurei and Tokyo salad turnips are two of my favorites. They are small like a radish and are very mild. They can be eaten raw, roasted or cooked in stews and soups. Eaten raw, the flavor is sweet and fruity, and the texture is crisp and tender. The dark-green, hairless tops are useful raw or lightly cooked with the roots.
However, if you can't find either of these varieties at your local  market look for small young turnips that are white with a lavender, purplest top below the stems. These will be milder than older, larger, more mature turnips.
In addition to using turnips you can use radishes in this recipe with great results.
Ingredients and Tools Used for Instant Pot Chicken Tender Stew
Here are some of the tools and ingredients that I used to create this recipe.



Instant Pot Chicken Tender Stew
Author: Carey
Nutrition Information
Fat: 4g
Carbohydrates: 28g
Sodium: 1250mg
Fiber: 8g
Protein: 33g
Cholesterol: 56mg
Recipe type: Main Dish
Cuisine: American
Prep time:
Cook time:
Total time:
A quick comfort food recipe using chicken tenders, small turnips and fresh carrots which is sure to please even the pickiest of eaters.
Instructions
Prep:
Wash, peel and cut turnips and carrots, set aside.
Peel onion, cut in half, slice thin, set aside.
Blot chicken tenders dry with food safe paper towels and season with poultry seasoning, salt and pepper.
Stew Steps:
Carefully add the tenders to the hot pot liner and sear on each side about 2 minutes per side. Remove to a plate.
Add onion slices to the pot and saute until translucent.
Carefully add about ½ cup of chicken broth to loosen the fond and deglaze the pot liner; slowly add remaining broth. Add seasoning herbs, stir.
Gently add turnip pieces, then chicken tenders with juices. Place carrot chunks on top. Hit [Cancel], place lid and lock lid on the pot.
Set pot using [Pressure Cook] or [Manual] for 5 minutes. Allow pot to naturally release pressure for 5 minutes then do a quick release.
Push food to one side and thicken broth with xanthan gum or gluccie.
Stir in peas and pearl onions, cover and let stew sit on warming for 5 minutes to heat through.
Serve garnished with dried parsley.