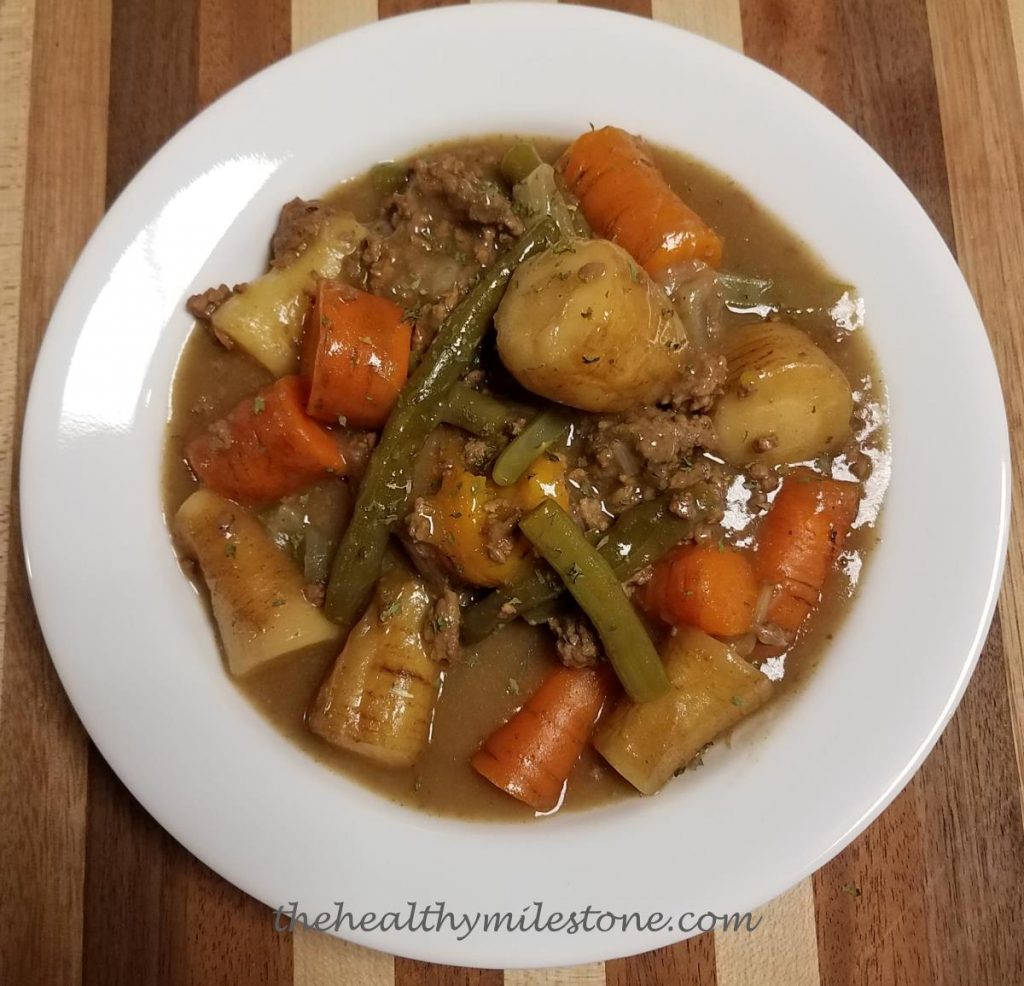 Instant Pot Hamburger Stew – THM E
Instant Pot Hamburger Stew is a quick, easy and comforting winter main dish that will surely please the entire family. It's filled with wonderful winter root vegetables and topped off with fresh green beans. 
Winter root vegetables include carrots, turnips and parsnips. We love parsnips, they have such a unique sweet flavor. Plus, they work beautifully in this stew along with carrots and turnips or radishes. Peas are wonderful in this stew but you can leave them out if you need to step back on the carbs in your E meals.  Omitting the peas will reduce the net carbs by 5 grams per serving.
Choosing the Ground Beef for Instant Pot Hamburger Stew
I prefer to use a very lean ground beef in this recipe because it saves me time. However, you can use a higher fat ground beef if you drain and rinse your meat thoroughly. When using a higher fat ground beef for budget reasons I would strongly suggest that you use 2 1/4 to 2 1/2 pounds of ground beef since the fat will be part of your purchase weight.
Instant Pot Hamburger Stew Vegetable Prep
Remove all tops and root ends on your vegetables. For this recipe I prefer to purchase organic root vegetables because I like to leave the skin on the carrots and parsnips. I use a quality vegetable brush and scrub them well. There are many great nutrients just beneath the skin on these root vegetables. In addition, they also help to thicken your broth. When using purple top turnips I like to peel those because they will have a more mild  flavor.   For the radishes remove the tops and root ends and wash well; cut in half or quarter depending on their size.
Instant Pot Hamburger Stew Gravy
This gravy is super simple to make. However, I strongly suggest using a shaker jar to blend the flour mixture and cold water. I have used this type of gravy shaker for many years. It truly helps me to create perfect gravy every time! The blender wheel that sits in the top rim perfectly blends the flour and water eliminating all those pesky lumps!
Be sure to remove the wheel when you add the water, then add your flour mixture; set the wheel back in place, seal tightly and shake.
Also, you can use this shaker-blender cup for creating a quick snack using almond milk and Trim Healthy Mama's Chocolate Whey Protein Powder or Boost Juice using THM Baobab Powder. I'm sure you can find many other uses for this great little kitchen helper.
Tools and Ingredients that I used to make Instant Pot Hamburger Stew
Here are a few of the ingredients and tools I used for Instant Pot Hamburger Stew.


Instant Pot Hamburger Stew
Author: Carey
Nutrition Information
Fat: 5g
Carbohydrates: 43g
Sodium: 453mg
Fiber: 12g
Protein: 32g
Cholesterol: 41mg
Recipe type: Main Dish
Cuisine: American
Prep time:
Cook time:
Total time:
Quick and easy Instant Pot stew filled with wonderful winter root vegetables is sure to be a family favorite.
Ingredients
Stew
2 pounds ground beef, 97% lean
1 tablespoon refined coconut oil
1½ cups onion (cut ½-inch thick)
2 cloves garlic (1/2" thick slices)
1 pound carrots (cut in 2" pieces)
4 stalks celery (cut in 2" pieces)
1 pound parsnips (cut in 2" pieces)
1 pound turnips (cut in 2" pieces)
12 ounces green beans (fresh, cut in 3 inch pieces)
2 cups peas, frozen, thawed, (optional)
6 cups low sodium beef broth
¼ cup black coffee (optional)
½ teaspoon dried oregano
1 tablespoon Worcestershire sauce
½ teaspoon THM Himalayan mineral salt
⅛ teaspoon black pepper
Gravy
Instructions
Peel and slice onion into ½ wedges. Peel garlic and slice thinly; set aside.
Wash, pare and cut your vegetables; set aside.
Set Instant Pot to saute. When it reads hot, add coconut oil and swirl to coat bottom.
Saute ground beef until lightly browned; add onion and saute for 4-5 minutes. Add garlic, saute about 30 seconds.
Gradually add beef stock and coffee (optional), stirring to de-glaze the liner. Stir in seasonings (bay leaf, oregano, Worcestershire sauce, salt and pepper).
Add carrots, celery, turnips (or radishes) and parsnips to the liner. Place green beans on the very top.
Hit [Cancel]. Set Instant Pot for 3 minutes using either [Manual] or [Pressure Cook] setting. Lock lid into place, set pressure release to sealing.
Allow pot to naturally release pressure for 2 minutes, then turn pressure release knob to venting. When pressure pin has dropped unlock and slowly open lid. Hit [Cancel] then hit saute; adjust to normal.
Add frozen thawed peas, gently stir into the stew.
Making the Gravy
In a small bowl whisk THM Glucmannan (or xanthan gum ) with sprouted wheat flour.
Remove blending wheel, add ¾ cup of cold water to a shaker/blender jar; pour in the flour mixture. Replace blending wheel, seal tightly and shake until well blended.
Shake water and flour again and gradually stir into the stew to thicken the gravy. Allow to simmer for 1 to 2 minutes.