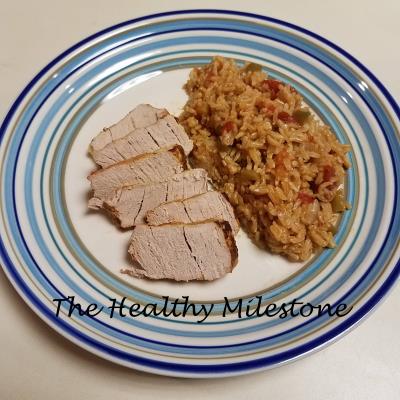 Quick and Easy Brown Rice and Pork Tenderloin Casserole in the Instant Pot – THM E
Rice and Pork Casserole – Instant Pot version has been a favorite at our house for many years as an oven casserole. Even today my daughter makes this for her family which always makes a Mama feel good when her recipes are used and well loved!
This post may contain affiliate links to Amazon or other programs. I do earn a small commission from the sales made through these links; however your price never changes.
The original recipe was made with pork chops and baked in the oven.  It was still an easy main dish to prepare, even for a learning teenage cook, but the oven time is 1 1/4 hours using brown rice! The Instant Pot version is certainly a game changer for dinner with a much shorter time. I have included the original instructions in the notes of the recipe card for those who are looking for  crossover meals which are great for the maintenance mama, pregnant or nursing mamas or those who need them for other reasons.
Pair this main dish with a generous portion of steamed asparagus, broccoli and green beans or 1/2 cup of frozen steamed peas. A nice side salad with dark leafy greens, cucumbers, slice peppers and a few cherry tomatoes drizzled with a fat free dressing is great addition for a summer meal.
Here's a couple of quick tips about pork tenderloin. When shopping for your tenderloin look for one that has 4 grams of fat or less. Different brands will vary slightly so I always check the back of the label. I often buy them when they are on sale – buy one get one free. This really saves on my grocery budget by freezing one for a later use.
Accessories and Ingredients used in the Rice and Pork Casserole
Here are a few accessories and ingredients used to create the Rice and Pork Casserole.





Rice and Pork Casserole - Instant Pot
Author: Carey
Nutrition Information
Fat: 6g
Carbohydrates: 37g
Sodium: 882mg
Fiber: 3g
Protein: 28g
Cholesterol: 74mg
Recipe type: Main Dish
Cuisine: American
Prep time:
Cook time:
Total time: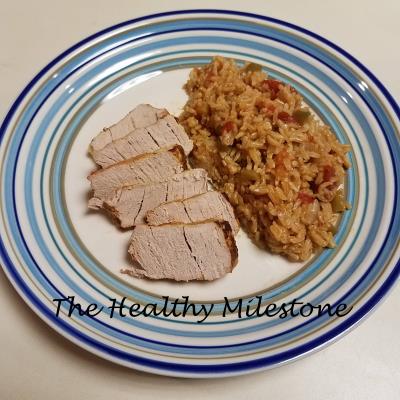 One pot main dish with pork tenderloin and rice that is quick and easy to make in your Instant Pot!
Instructions
Place liner in the Instant Pot; hit [Saute] to heat.
Cut pork tenderloin into 4 equal servings approximately 4 ounces each. Season each piece lightly with salt and pepper.
When the pot reads hot lightly spray with refined coconut oil spray. Add tenderloin portions, lightly brown each side. Once browned remove to a plate. Hit[Cancel] on the Instant Pot.
Place rice in a strainer and rinse thoroughly; drain.
Slowly add the chicken stock to the pot liner, stir to loosen the fond on the liner. This step is important for two reasons; it enriches your stock and prevents your rice from scorching during cooking.
Peel tomato and dice, add to liner with stock. Dice green pepper and onion, add to liner with tomato and stock. Stir in rinsed, drained rice. Sprinkle with paprika.
Add pork tenderloin portion on top of rice and veggies. Place lid on the Instant Pot, lock and set to sealing.
Hit [Manual], reduce time [-] to 18 minutes; hit [Pressure] to adjust to low. Allow the pot to naturally release the pressure.
Notes:
If you are looking for a crossover meal you can create this using center cut loin chops.
Preheat oven to 350 degrees.
Season and brown chops in a skillet; transfer to a 13x9x2 oven proof casserole.
Increase chicken stock to 2 cups. Add rice, diced tomato, onion and green pepper to the casserole, pour in chicken stock and then add the browned chops.
Cover tightly with aluminum foil, slide into preheated oven; bake 1 hour and 15 minutes.