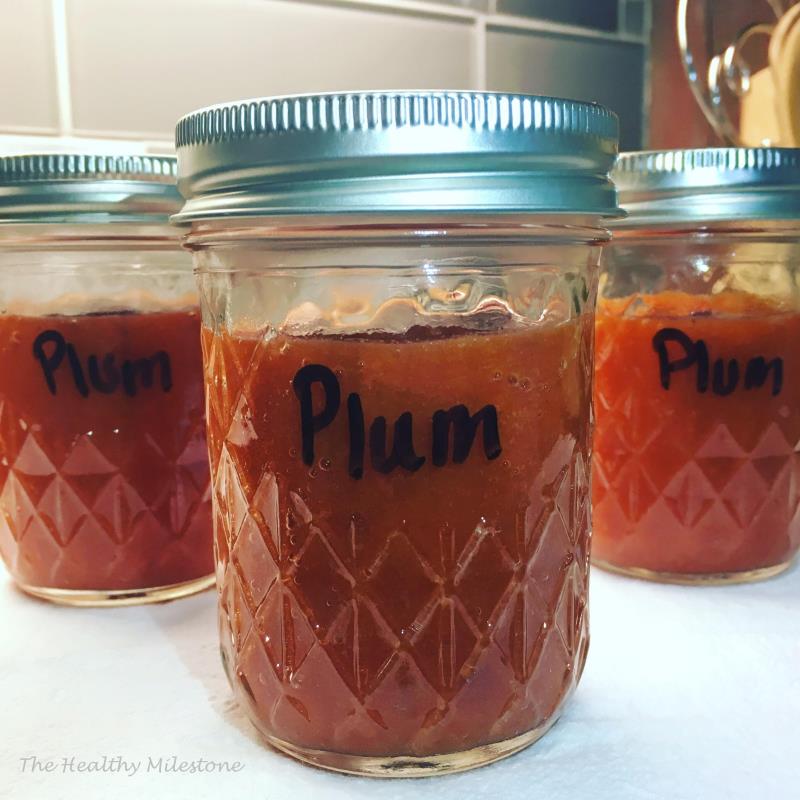 Simple Instant Pot Plum Butter – THM E
This Plum Butter is an easy way to make a whole fruit spread for your sprouted wheat or sourdough breads. It will help keep you on the Trim Healthy Mama plan without worrying about added carbs from fruit juice or sugar.  You can use most any variety of plums for this recipe. Keep in mind that some varities will give you a darker fruit butter.
This post may contain affiliate links to Amazon or other programs. I do earn a small commission from the sales made through these links; however your price never changes.
Using your Instant Pot saves so much time cooking and reducing the plums into a delicous plum butter. Also, you only have one pot to wash, which is a win for most of us!
Health Benefits of Plums
There are few fruits that come in such a panorama of colors as the juicy sweet tasting plum. The plum season extends from May through October with the Japanese varieties first on the market from May and peaking in August followed by the European varieties in the fall.  Plums belong to the Prunus genus of plants and are relatives of the peach, nectarine and almond. They are all considered "drupes," fruits that have a hard stone pit surrounding their seeds. Also, plums varities are dried to create prunes.
Plums are high in fiber. Their high content of unique phytonutrients called neochlorogenic and chlorogenic acid are classified as phenols, and their function as antioxidants has been well-documented. Plums are a very good source of vitamin C. Plums are a good source of vitamin K, copper, dietary fiber and potassium. They are also rated low on the Glycemic Index  which is good news while following the Trim Healthy Mama plan.
Ways to Use Plum Butter
A big thank you goes out to my dear, sweet friend, Tammy, who tested this recipe and created these amazing ideas to share with you.
A Plum Butter Parfait is a great way to create a fast track E breakfast that can be made in advance. We like to use an 8 ounce Ball jelly jar which allows for a wonderful presentation as  well as portion control.  Top with Crunchy Granola, a recipe from the Trim Healthy Table cookbook which is found on page 361, then top off  with yummy blueberries. You can make homemade FP Greek yogurt in your Instant Pot. Check out this recipe: Homemade Yogurt from Wonderfully Made and Dearly Loved.
Plum Butter Open Faced Turkey Sandwich is a delicious snack or double it up for an E meal.  Smear a thin layer of Light Laughing Cow cheese spread on either sour dough rye or sprouted wheat bread.  Top your cheese layer with 1  tablespoon of plum butter, then top with lean turley deli meat.  To create a closed sandwich add some crisp, leafy greens and top with another slice of bread.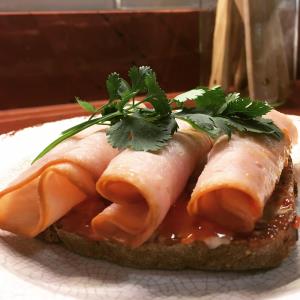 Ingredients and or Items Used for the Simple Instant Pot Plum Butter
Ingredients and items used for creating this recipe for the Instant Pot Plum Butter.




Simple Instant Pot Plum Butter
Author: Carey
Nutrition Information
Carbohydrates: 4g
Cholesterol: 0mg
Recipe type: Condiment
Cuisine: American
Prep time:
Cook time:
Total time: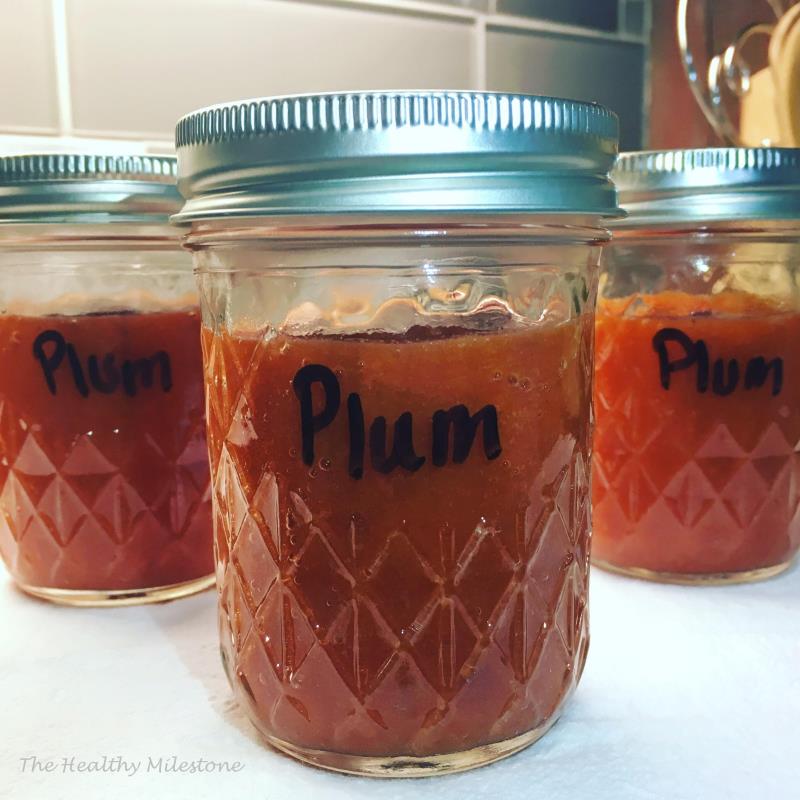 This Simple Instant Pot Plum Butter is an easy way to make a whole fruit spread that is on plan to use in your E meals and snacks.
Ingredients
4 cups plums (fresh, cut in pieces)
¼ cup water
¼ cup THM Gentle Sweet (adjust to your taste buds up ½ cup)
½ lemon (organic, juiced)
Instructions
Place ¼ cup of water in yourInstant Pot liner. Add cut plums.
Place the liner in the pot, lock lid and set to sealing. Hit [Manual] or [Pressure Cook], set time to 4 minutes.
When the pot states 00:00 allow the pot to manually release the pressure (NPR)
Once the pressure pin has dropped, carefully open the lid. Set the pot to saute, low or normal temp. This step will require a watchful eye and stirring to allow the mixture to reduce until it begins to sheets off the back of a spoon.
Turn off the Instant Pot. Let the fruit mixture cool about 5 minutes then remove the liner from the pot using pot holders or silicone mini mitts. Stir in the THM Gentle Sweet and lemon juice. Carefully do a taste test, adjust sweetness if more sweetener is needed.
You can ladle the plum mixture out into a Vitamix and give it a few quick pulses to reach your desired consistency or use a stick blender.
Ladle or pour into a storage jars, cover and refrigerate.
Notes:
Do not place a hot mixture into a blender that is not rated to blend hot foods, please use a stick blender.
I like to use freezer safe jelly jars which I sterilize in my Instant Pot by placing room temperature jars in the liner with 1½ cups of water. Hit [Steam] or [Sterilize] for 10 minutes.