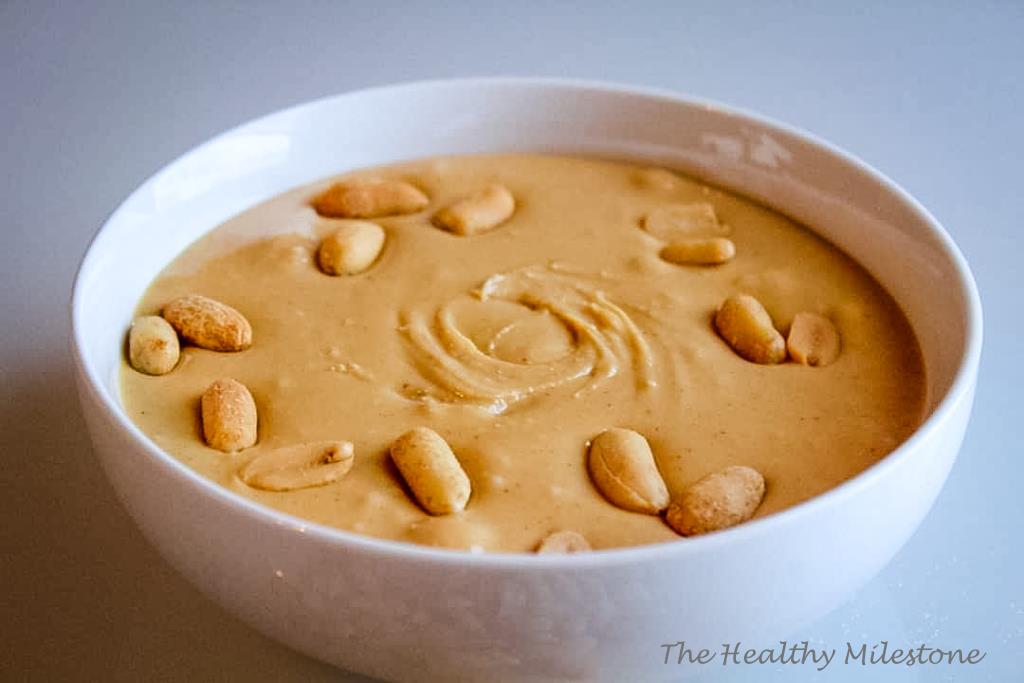 Making Peanut Butter in Your Vitamix
Vitamix peanut butter is the easiest of all nut butters. The challenge comes with not being afraid to use your Vitamix for such a dense blend but trust me it's up for the task!
Choosing the Ingredients to Fit Your Vitamix Container
First, you need to understand your containers. A narrow bottom container can process less ingredients. However, a wide bottom container requires more ingredients to give you a proper blend.
32 ounce wet container will process 2 cups of peanuts
48 ounce wet or 64 ounce narrow bottom container will process 3 cups of peanuts
64 ounce wide bottom container needs 4 cups of peanuts to process
Peanut Butter Blending Tips
When making any nut butter remember that your Vitamix tamper is your best friend. You need to use the tamper through the plug hole in your lid to push the nuts down through the blades. Also, never use your tamper without the lid in place on  your container. The lid is designed to keep your tamper above those powerful blades.
Once your nuts are in the container and your lid is secured, remove your cover plug and insert your tamper. Turn your machine on and dial up from variable speed 1 to 10 quickly. If you have a standard, classic machine like the 5200 you must flip the switch from low to high once you have adjusted your variable speed to 10.  Use your tamper repeatedly to help move the nuts through the blades until the desired texture is achieved.
Finally, do not fear the groan, just keep pushing those nuts until you see and feel a smooth nut butter forming. This process only takes about 1 minute when blending peanuts into peanut butter.
Cleaning out the Container Ideas
Before washing your container consider using that left over peanut butter for making a smoothie or shake. Here's a great one for the children or husbands that need those healthy crossovers.
Apple Peanut Butter Shake – THM XO
Add one cup of almond milk to your container, add one cored, chunked organic apple with skin and about 1 cup of ice. Blend until you can only see tiny bits of red from the apple skin. Of course you can blend further but those bits of red are fun for the children. You will have to adjust these ingredients according to your container style. For example, double the ingredients if using a wide bottom container.
Another great recipe would be Briana Thomas's Peanut Butter Milk Shake – THM S. You may need to add a tad more nut butter.
Tools I Used for Making Peanut Butter
Here are some of the items that I use when creating on plan nut butter like peanut butter. [As an An Amazon Affiliate I earn from qualifying purchases, but your price never changes.]
Need Recipe Ideas for Your Peanut Butter?
Here are some great recipes for your THM journey for your freshly blended peanut butter.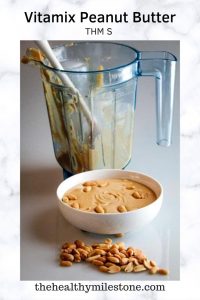 Vitamix Peanut Butter
Author: Carey
Nutrition Information
Fat: 11g
Carbohydrates: 5g
Sodium: 16mg
Fiber: 2g
Protein: 5g
Cholesterol: 0mg
Recipe type: Snack
Cuisine: American
Prep time:
Cook time:
Total time: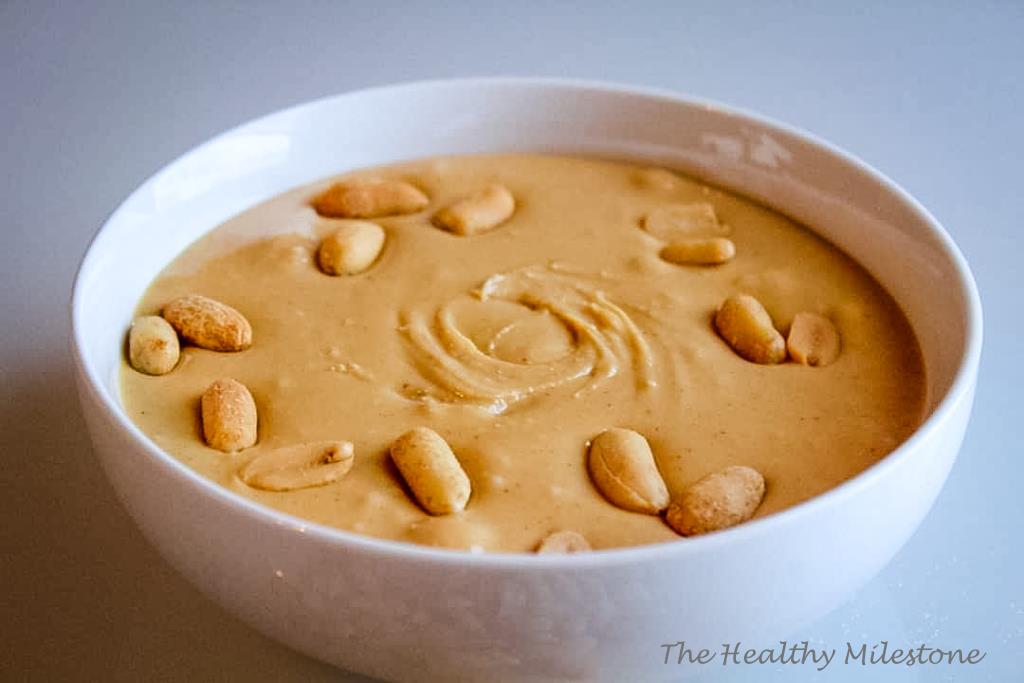 Vitamix peanut butter is the easiest of all nut butters to make plus using dry roasted, unsalted nuts you have no added ingredients, just peanuts!
Ingredients
32 Ounce Wet Container
16 ounces peanuts, dry-roasted unsalted (approximately 2 cups)
⅛ teaspoon THM Himalayan mineral salt
48 ounce wet or 64 ounce narrow bottom containers
24 ounces peanuts, dry-roasted unsalted (approximately 3 cups)
64 Ounce Wide bottom container
32 ounces peanuts, dry-roasted unsalted (approximately 4 cups)
Instructions
Place peanuts in the Vitamix container, snap on the container lid, remove plug and insert tamper.
Turn machine on and gradually but quickly turn to variable speed 10. Some machines will require you to flip the switch to high.
Using the tamper push the nuts down into the blender, you will get the famous Vitamix groan, do not fear. Continue to blend for 1 minute until your nuts are creamy and smooth. The motor sound will change from a high pitch to a low laboring sound. Stop machine.
Pour your peanut butter into an air tight, glass container for storage, scraping container using a spatula or blade scraper.