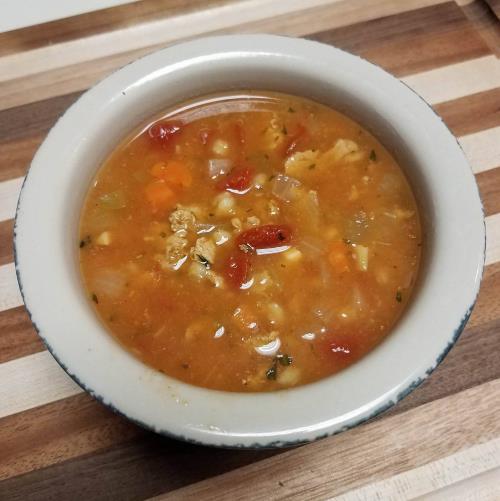 Tomato Barley Turkey Soup
We love soups and Tomato Barley Turkey Soup is one of my favorites since barley is barley is one of my favorite grains. I was very excited to read that hulled barley is a great grain to use in the Trim Healthy Mama plan. This soup is easy to make either on the stove top or in your Instant Pot.  There are 6 generous servings in this soup.

This post may contain affiliate links to Amazon or other programs. I do earn a small commission from the sales made through these links; however your price never changes.
Some Great Facts About Barley
Doing a little research on barley I was amazed to find out how good this ancient grain is for you. In addition to its unique flavor, barley is a very good source of manganese, dietary fiber, selenium, vitamin B1, chromium, phosphorus, magnesium, and niacin. Barley is an excellent food choice for those concerned about type 2 diabetes or pre-diabetes because the grain contains essential vitamins and minerals and is an excellent source of dietary fiber, particularly beta-glucan soluble fiber. Research shows that barley beta-glucan soluble fiber promotes healthy blood sugar by slowing glucose absorption.
Buying and Soaking Your Barley
My favorite hulled barley is Grain Place Foods Non-GMO Organic Hulled Barley which comes in a  2 pound bag.  First tip is to soak your hulled barley for about 6 hours because it will be more digestible and take less time to cook.  Just place 3/4 of a cup of hulled barley in a small bowl and cover with water.

Tomato Barley Turkey Soup
Author: Carey
Nutrition Information
Fat: 7g
Carbohydrates: 32g
Sodium: 676mg
Fiber: 6g
Protein: 18g
Cholesterol: 60mg
Prep time:
Cook time:
Total time: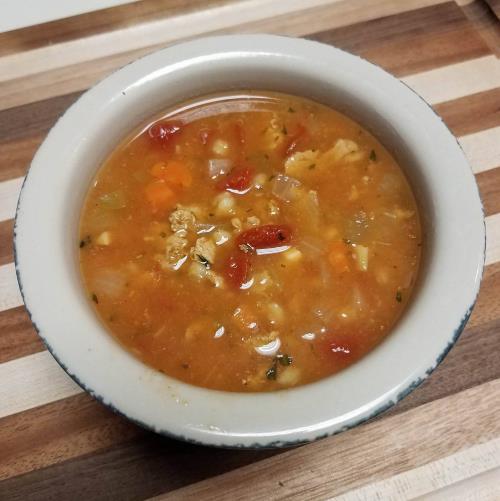 Ingredients
1 pound ground turkey (96-99% lean)
2 carrots (peeled, halved and slices into coins)
1 onion (peeled and diced)
1 celery rib (diced)
1 clove garlic (minced or pressed)
1 envelope taco seasoning mix (or 3 tablespoons homemade seasoning mix)
4½ cups water
28 ounces tomatoes, canned (Italian,diced)
¾ cup barley. hulled (soaked in water for 6 hours and drained)
2 tablespoons parsley (dried flakes)
⅛ teaspoon oregano (dried)
Instructions
Instant Pot Instructions
Set the liner in your instant pot. Set the pot to saute, normal. Once the pot has heated give it a light spray with refined coconut oil spray.
Saute the ground turkey, carrots, onion, celery, garlic and 1 tablespoon of the taco seasoning over medium heat until the turkey is no longer pink.
Slowly stir in the water, tomatoes, remaining taco seasoning and soaked, drained barley. Hit cancel on your pot. Hit the manual button; set the time to 15 minutes using the -/+ button. Allow the pot to naturally release the pressure for at least 15 minutes.
Once the pressure is released stir in the dried parsley and oregano. Leave pot on the warming cycle for the dried herbs to expand about 2 minutes. Serve.
Stove Top Instructions
Heat a large 5 quart stainless steel pot. Once heated give it a light spray with refined coconut oil. Add the ground turkey, carrots, onion, celery, garlic and 1 tablespoon of the taco seasoning; cook over medium heat until the turkey is no longer pink.
Gradually stir in the water, tomatoes and remaining taco seasoning; bring to a low boil. Reduce the heat and simmer for 15 minutes.
Add soaked, drained barley; cover and simmer for approximately 25-30 minutes or until the barley is tender.
Once your barley has reached your desired tenderness stir in the dried parsley and oregano. Simmer another 1 -2 minutes. Serve