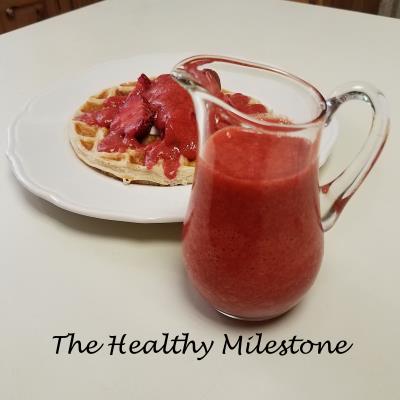 Bright and Cheery Summertime Sauce
Strawberry Rhubarb sauce is a big favorite here. It's a bright and cheery sauce which is great for pancakes or waffles topped with 0% Greek yogurt and fresh strawberries. It's so easy to make this in the Instant Pot. You can use it as a sauce over the Simple Instant Pot Cheesecake.
This post may contain affiliate links to Amazon or other programs. I do earn a small commission from the sales made through these links; however your price never changes.
A Little About Rhubarb
My grandmother always referred to Rhubarb as the pie plant. She would gather the rhubarb in June and prepare it for pies but also she would freeze packages for wintertime treats. Rhubarb is very high in fiber, very low in calories and is high in Vitamin K, C and A.
Ways to use Strawberry Rhubarb Sauce
It's not just for breakfast! Strawberry Rhubarb Sauce is also great for a lunch box treat layered with homemade fat free Greek yogurt.  You can also whisk 2 tablespoons of sauce with 1 teaspoon cider vinegar, 1 teaspoon white balsamic vinegar, 1-2 teaspoons water, pinch of salt and pepper to make a bright, cheerful oil free dressing for a mixed greens salad topped with grilled chicken, sliced strawberries and feta cheese crumbles.
Favorite Tools and Ingredients for Strawberry Rhubarb Sauce
Here are a few of the accessories and ingredients used to create this recipe.
Strawberry Rhubarb Sauce
Author: Carey
Nutrition Information
Serving size: ¼ cup
Calories: 16
Carbohydrates: 3g
Sodium: 2mg
Fiber: 1g
Cholesterol: 0mg
Prep time:
Cook time:
Total time: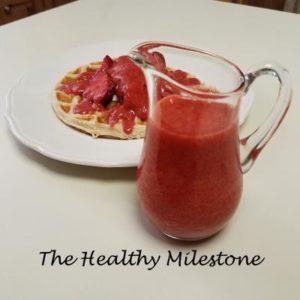 Ingredients
4 cups rhubarb (cut in ½" pieces)
2 cups strawberries (sliced or quartered)
¼ cup water
¼ cup THM Gentle Sweet
Instructions
Prep:
Wash rhubarb and strawberries. Cut rhubarb into ½" inch pieces; add to Instant Pot liner. Stem, core and sliced strawberries; set aside.
Instant Pot Instructions:
Add ¼ cup water to the rhubarb pieces in the Instant Pot Liner.
Place liner in the pot, lock lid, set to sealing. Hit [Manual], adjust time to 4 minutes. When the pot beeps do a quick pressure release.
Carefully remove lid after the pressure is totally released. Add the sliced strawberries, replace lid leaving the pot on the warming cycle for 10-15 minutes for the berries to soften.
Once the berries have softened add the THM Gentle Sweet, stir. You can either blend in the liner with a stick blender or cool and pour into a blender container. Blend until smooth.
Store in glass jars in the refrigerator or freeze in freezer safe containers.
Stove Top Instructions:
Prep all fruit as above. Place water and rhubarb in a medium sauce pan, cover and bring to a quick boil. Turn heat down to a simmer; simmer 20 minutes or until the rhubarb is very tender.
Add the strawberries, cover and simmer on a very low heat for 5 minutes. Turn heat off and let the fruit set 5-10 minutes. Check for tenderness. Once the fruits are tender add your sweetener and blend.