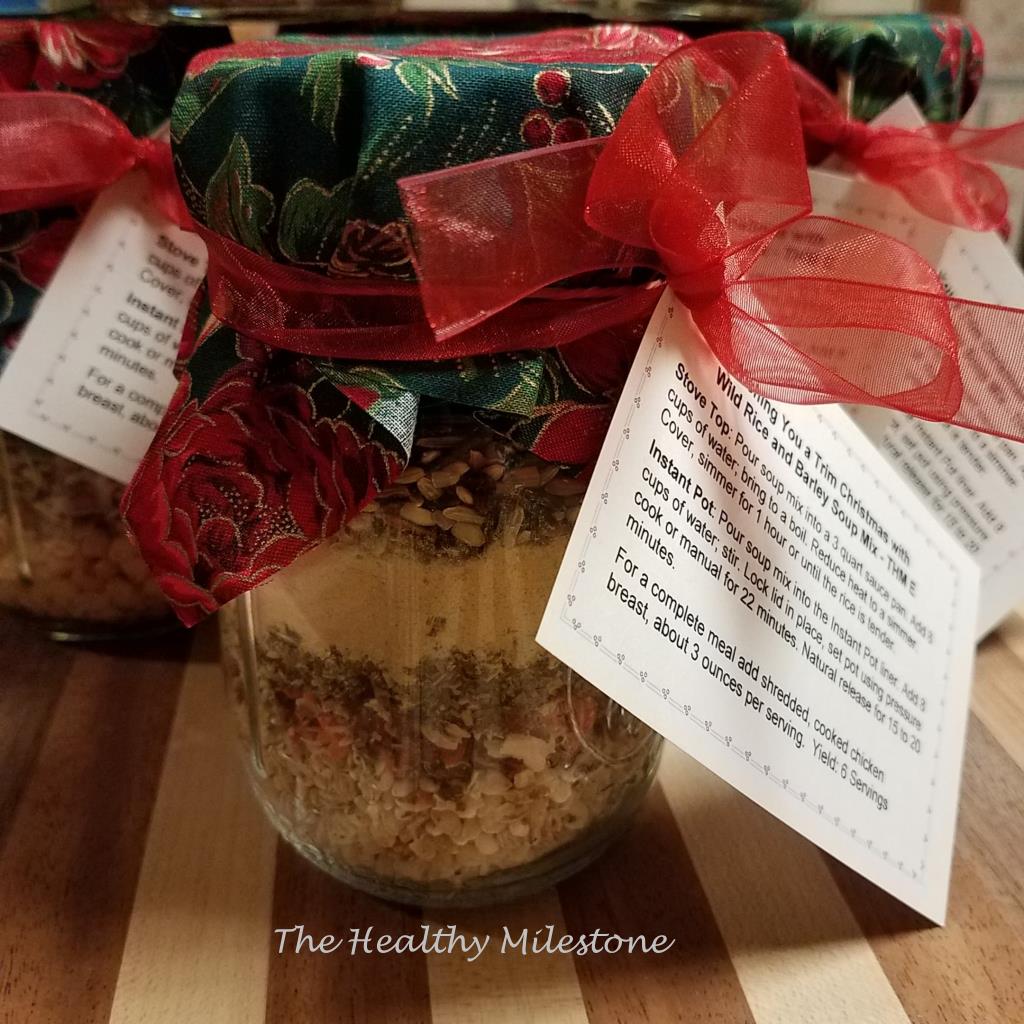 Wild Rice and Barley Soup Mix in a Jar – THM E
Treat your friends and family to a wonderful trimming Christmas gift with this Wild Rice and Barley Soup Mix in a jar. This recipe was one of my best-selling mixes when I was creating family favorites to sell as packaged mixes at fall holiday craft fairs and markets.  I am very excited to bring you a healthier option using a "trim bouillon" containing on plan ingredients. I still enjoy creating homemade and handcrafted gifts for my THM friends and family. Plus creating these little gifts nourishes my crafty side while creating or tweaking recipes from my recipe box. You can also pair this with the Apple Oatmeal Coffee Cake mix to create a nice gift basket.
This post may contain affiliate links to Amazon or other programs. I do earn a small commission from the sales made through these links; however your price never changes.
Ingredients for Wild Rice and Barley Soup Mix in a Jar
For the Wild Rice and Barley Soup Mix in a Jar you can either use wild rice or a wild rice blend.  You may find a wild rice blend a bit more friendly for your budget. I like Lundberg Wild Blend, Gourmet Blend of Wild and Whole Grain Brown Rice. It lends a nice flavor and texture to this soup.
You can often find dried vegetable flakes, sometimes labeled dried soup vegetables, at a bulk market or they can be ordered on line. One of my favorites is Harmony House Foods Dried Vegetable Soup Mix. However, check the ingredients carefully to make sure they do not contain potatoes.
Trim Bouillon can be found in the Trim Healthy Mama Cookbook on page 491. This is an amazing mix that stores well and can be used in many other recipes. Another option is to create a batch of Vegetable Bouillon Powder.
For a Gluten Free Version of the Wild Rice and Barley Soup Mix in a Jar
If you have friends and family that need a gluten free version of this soup mix just replace the barley with Chana Dal. Another great option is to use either yellow or red lentils. In addition, using the Chana Dal or red lentils will lend an added visual contrast to the ingredient layers which is very pretty.
Supplies You Will Need for the Wild Rice and Barley Soup Mix in a Jar
When selecting your jars for the Wild Rice and Barley Soup Mix in a Jar mix you can use any jar or canister that holds 2 cups or one pint.  If you prefer mason jars you can use either a regular or wide mouth canning jar.
In addition, if you don't sew or have fabrics available you can use plastic mason jar covers which are available in colors or white.  For the fabric covers you will need 6 1/2 square pieces of fabric and 24 inches of pretty ribbon for each jar. The pretty sheer ribbon in this photo came from a Dollar Tree store. I was able to get 8 jar ribbons from a $1 spool of ribbon!
Wild Rice and Barley Soup Mix in a Jar recipe tags are printed on card stock. I used a natural, cream colored card stock but you can use white or colors of your choosing.  The recipe tag has instructions for both stove top and the Instant Pot. Also, it is two sided with directions for making the soup with cooked chicken.  Side two contains directions for using fresh chicken with instructions on how to cook it with your soup mix.
To print the recipe tags click on this recipe tag image below.
Items Used to Create Wild Rice and Barley Soup Mix in a Jar Gifts
Here are some of the items and supplies that I used to create these mix in a jar gifts.


Wild Rice and Barley Soup Mix
Author: Carey
Nutrition Information
Fat: 5g
Carbohydrates: 34g
Sodium: 312mg
Fiber: 5g
Protein: 21g
Cholesterol: 45mg
Recipe type: Soup
Prep time:
Cook time:
Total time:
Wild Rice and Barley is a hearty soup mix that makes great gifts for your friends and family. This soup is very easy to make either on the stove top and in your Instant Pot.
Ingredients
For Soup Preparation:
8 cups water
1 tablespoon butter
2 cups cooked, shredded chicken (optional)
Instructions
Combine the first 5 ingredients in a small bowl. This is the brown sugar mixture. Set aside.
Layer ingredients in a pint size canning jar with a tight fitting lid as follows: barley, dried vegetable flakes, brown sugar mixture, THM Trim Bouillon, rice and onion flakes, packing each ingredient slightly.
Cover mix and store in a cool dry place for up to 4 months.
Stove Top Soup Preparation
Pour soup mix into a 3 quart saucepan. Add 8 cups of water and 1 tablespoons butter; bring to a boil.
Reduce heat. Cover sauce pan; simmer for approximately 45-50 minutes or until the rice is tender.
Add 2 cups of shredded, cooked chicken for a complete meal.
Instant Pot Soup Preparation:
Pour soup mix into the Instant Pot liner. Add 8 cups of water and 2 tablespoons butter; stir. Lock lid in place, set pot using pressure cook or manual for 22 minutes. Natural release for 15 to 20 minutes.
Add 2 cups of cooked, shredded chicken for a complete meal.
Notes:
For a gluten free soup mix replace barley with ½ cup Chana Dal or yellow or red lentils.
Swerve Brown Sugar Replacement can be used on plan as a personal choice item.