Apple Oatmeal Coffee Cake – THM E
Apple Oatmeal Coffee Cake is a quick, moist and tasty snack or dessert that will please the entire family. This recipe was one of my best-selling mixes when I was creating family favorites to sell as a packaged mixes at fall holiday craft fairs and markets.  Since apples are available pretty much year-round we have this cake quite often. It's an E snack or dessert for the Trim Healthy Mama Plan.

This post may contain affiliate links to Amazon or other programs. I do earn a small commission from the sales made through these links; however your price never changes.
Apple Oatmeal Coffee Cake freezes well as individual servings.  These servings are great lunch box treats for the whole family or for you to have on hand when you need an E snack. It pairs very well with a Chai Trimmy on page 432 of the Trim Healthy Mama Cookbook.
Apple Oatmeal Coffee Cake Makes a Great Gift
Apple Oatmeal Coffee Cake can made into a mix by sifting your dry ingredients into a bowl then adding these ingredients to a plastic bag. You can then place it into a decorated brown or white paper lunch bag.  Some great decorations for bags are old greeting cards or cut-out fabric appliques that can be attached to the paper bags. Once decorated fold over the tops, pinch two holes with a paper punch about 2 inches apart then thread twine or raffia ribbons thru the holes. Punch a hole through your recipe card and attach the card and tie into a bow.
Another great idea is to use remnants of fabrics to make cloth bags.   I created homespun bags from remnants of fabric from different projects. You can find ideas for gift bags on Pinterest.
Yet another idea is to place your mix in a canning jar, cover the top with a pretty piece of fabric that is approximately 7 inches square.  Secure the fabric with a rubber band, then tie a matte raffia ribbon or jute type twine around the jar top ring, add your gift tag and then tie a bow. A wide mouth 24 ounce jar is perfect for this mix.
You can download the gift tag to print for your gifts by clicking the image below. The gift tag is printed on both sides of the paper. Be sure to select from your print screen to print one side at a time.  Using a heavier paper like a light weight card stock works the best for these recipe gift tags. I use an old fashion paper cutter to cut my tags or a Fiskars Sure Cut Paper Trimmer used for scrap booking.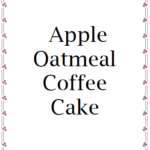 Ingredients and Items Used for Apple Oatmeal Coffee Cake
Ingredients and items that I used for creating this recipe and gift tags for the Apple Oatmeal Coffee Cake.



Apple Oatmeal Coffee Cake - THM E
Author: Carey
Nutrition Information
Fat: 5g
Carbohydrates: 18g
Sodium: 321mg
Fiber: 8g
Protein: 8g
Recipe type: Dessert
Cuisine: American
Prep time:
Cook time:
Total time:
Instructions
Preheat oven to 325 degrees. Spray an 8 x 8 inch baking pan with coconut oil spray.
Mix dry ingredients together in a large mixing bowl.
Add wet ingredients (egg white, applesauce, yogurt and vanilla); mix well.
Add chopped apple and nuts and stir until combined.
Pour into prepared pan. Bake 40-45 minutes or until a cake tester comes out clean.